Quality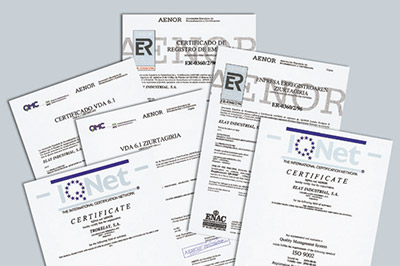 Our commitment to quality drives us to push beyond the quality of the final product. Guided by the EFQM Excellence Model, all of our management practices are oriented toward Total Quality Management (TQM), which means a commitment to quality in every facet of our operations.
0 PPM: We are working toward 0 PPM with the implementation of sensors on moulds and dies, automated inspections, and continual improvement. The entire Elay Group is backed by the knowledge accumulated over 50 years of experience, knowledge which we have condensed and streamlined with Lean Manufacturing practices.
We reach an agreement with our clients on the level of quality necessary for any given project, and then our team at CELAY provides the means necessary to achieve that quality, no matter how exacting. We are ISO 9001, ISO 14001 and ISO-TS 16949 certified.